I saw the link to the US version of the Political Compass test (although it is called the Political Spectrum test). over at
Tygerland
. Unsurprisingly I was placed in the libertarian left - no surprise there....
My Political Views
I am a left social libertarian
Left: 5.06, Libertarian: 4.1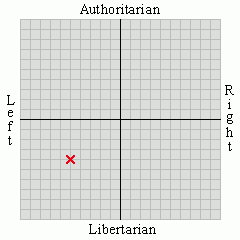 Political Spectrum Quiz
My Foreign Policy Views
Score: -3.34

Political Spectrum Quiz
My Culture War Stance
Score: -5.56

Political Spectrum Quiz
Any test of this sort is going to be far from perfect but at least it tries to add a dimension to the left/right split.
According to the original
Political Compass
test, my scores are pretty similar on the left/right split but I appear to be a bit more libertarian.. make of that what you will.
It did pass a bit of time on a wet Sunday